Melania Trump, maybe America's most private first lady ever, is a woman whose quiet presence on Pennsylvania Avenue is almost the polar opposite of the image projected by her husband.
Her reserved voice contrasts with the president, who often speaks unfiltered whenever he wants.
"We are very honored to serve our great nation," she added.
With a scenic wildlife preserve in Kenya as the backdrop, Llamas asked Melania Trump if traveling was one of the best parts of being first lady. Yes, she said, it was.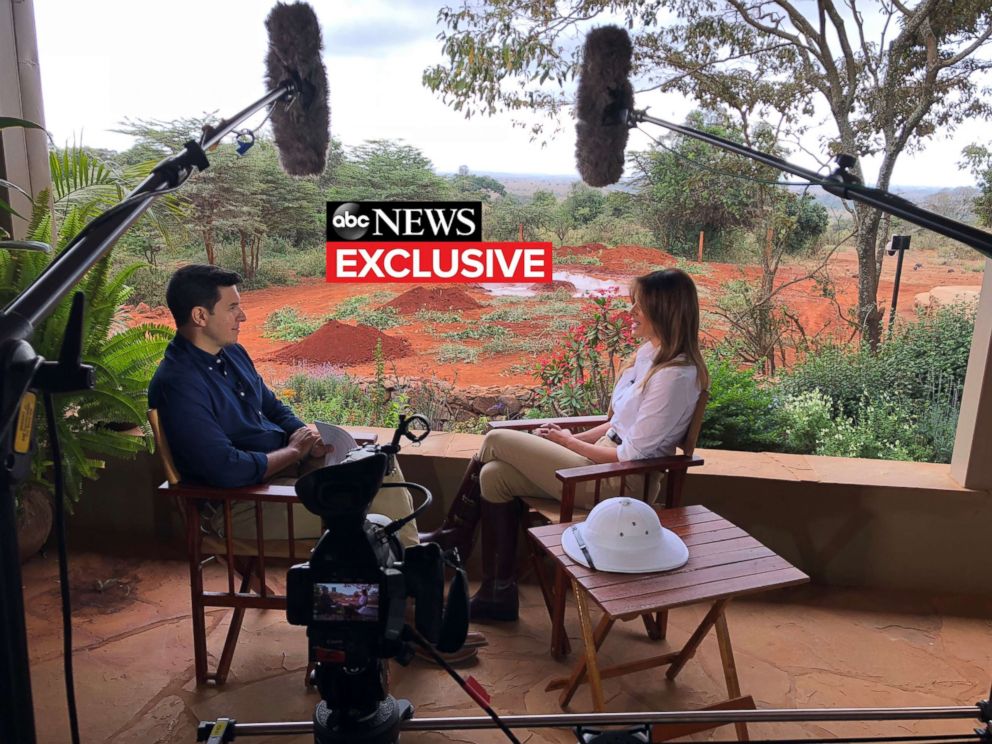 "But it's also when I travel across the world and across the country, meeting people, and hearing and helping them as much as I can, and hearing what is important to them," she added.
Long before traveling the world as first lady of the United States, Melania Trump spent her youth in a small central European town before navigating the ranks of the fashion world and eventually landing in the country she now calls home.
Born Melania Knauss in Slovenia in 1970, she worked as a fashion model in Italy and France before moving to New York in 1996. Shortly thereafter, she met a real estate developer with big buildings and an ego to match.
During an interview with Barbara Walters in 2015, the first lady described how the two met.
"Well, he was very charming and we had the great sparkle. He came with a date. So he asked me for the number and I said, 'I will not give you my number. So if you give me your numbers, I will call you.' So I see what kind of numbers he will give me. Because I don't want to be one of the ladies. And he was known as kind of a lady's man."
The mogul and the model would marry in 2005.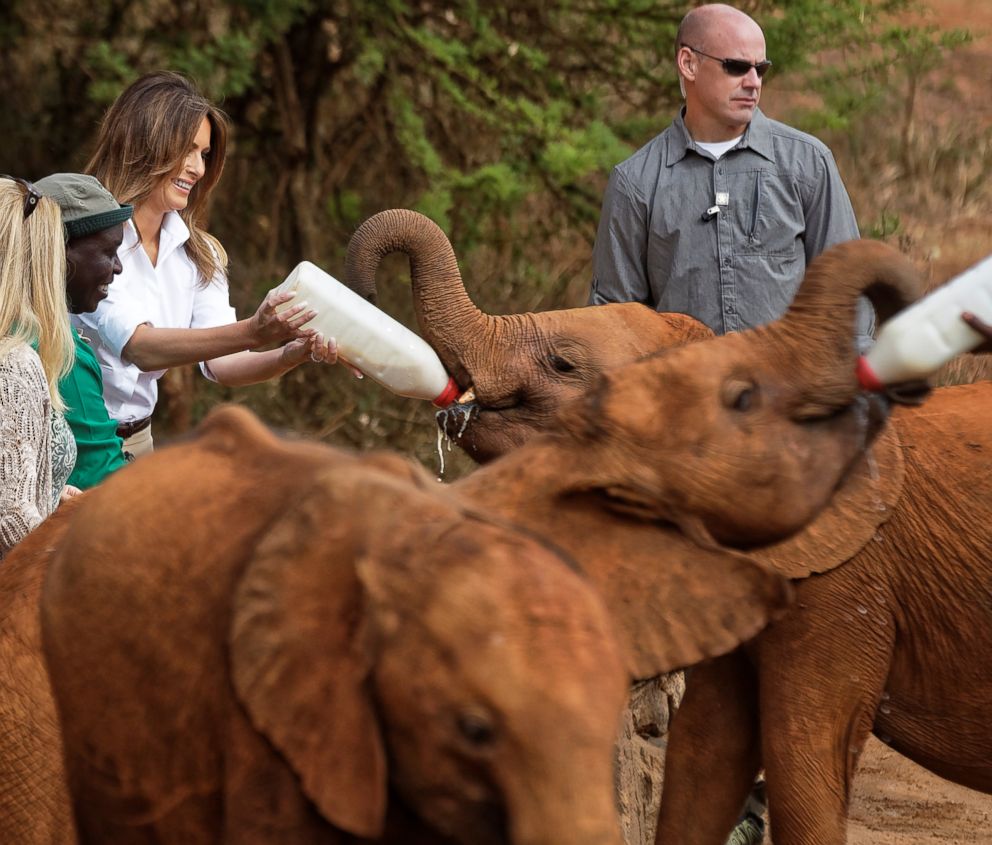 "We have a great chemistry and to be with a man like my husband is you need to know who you are," Melania Trump told Walters during the campaign in a 2015 interview. "You need to have a very independent life and supporting him, you need to be very smart and quick, and be there for him when he needs you."
Now, 16 months into living in the White House, she says there have been challenges.
Trump says she wants to make the most of these White House years. And yet, she says not everyone wants to help. The first lady lamented that organizations have spurned her efforts to collaborate, accusing them of allowing her husband's politics to get in the way of her charitable endeavors.
"It's sad to see that organizations and foundations that I want to partner with choose not to because of the administration," the first lady said. "And I feel they're choosing the politics over helping others."
Who exactly said no? Trump wouldn't specify, saying, "I would not talk about it. They know who they are. I don't want… I don't want to put them out in front of the world, but they know who they are."
There are also those repeated accusations of sexual misconduct and infidelity leveled against her husband.
"During the Access Hollywood incident during the campaign, your husband apologized to you. Has your husband apologized to you since you've been in the White House?" Llamas asked the first lady.
"Yeah, he apologized," she said, before declining to divulge further details.
Six days after her interview with Llamas, the first lady's staff clarified her comments, telling ABC News, "The president often apologizes to Mrs. Trump for all the media nonsense and scrutiny she has been under since entering the White House."
Asked if her husband's alleged affairs — which the White House has denied — have put a strain on their marriage, she said that people and the media like to speculate and circulate gossip.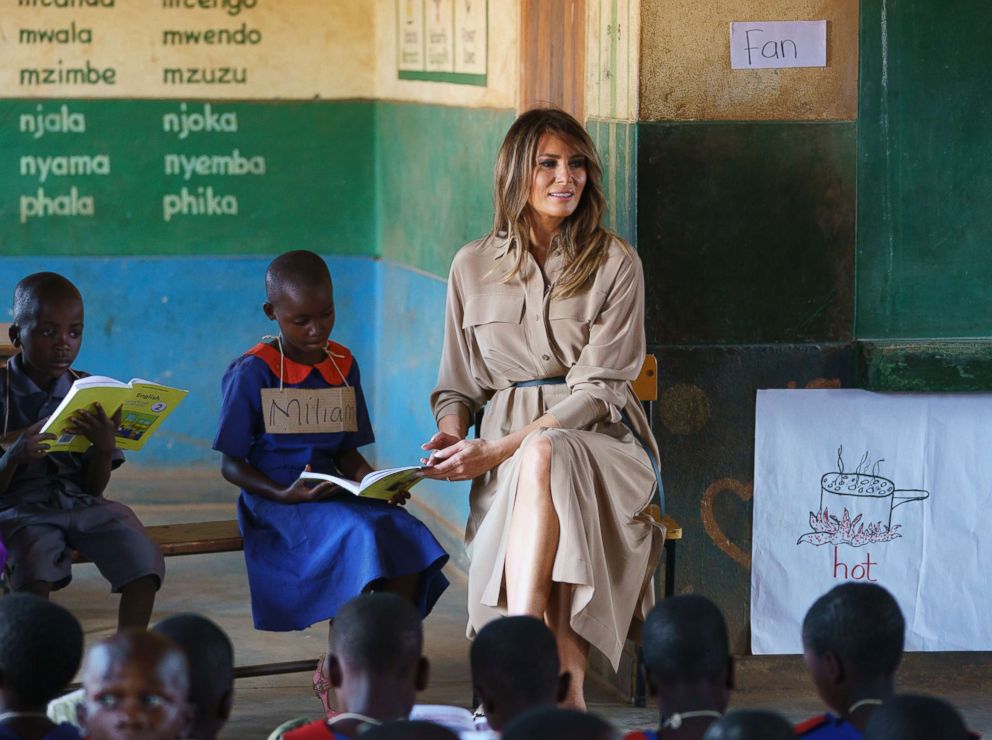 "I'm a mother and a first lady, and I have much more important things to think about and to do," she told ABC News. "It is not a concern and focus of mine."
"I support the women – they need to be heard. We need to support them. And also men, not just women," Trump said. "You cannot just say to somebody… 'I was sexually assaulted' or 'You did that to me.' Because sometimes the media goes too far and the way they portray some stories, it's not correct. It's not right."
Still, the first lady presses on. She spoke of her son, Barron, who is now 12 and whom she keeps shielded from the spotlight. After the inauguration, she stayed with him in New York until he finished the school year. She said she doesn't always go to his sports practices and games because it would "bring the attention." "I don't go much," she said. "He likes to be one of the boys when they play. … It's his life too, and I respect that."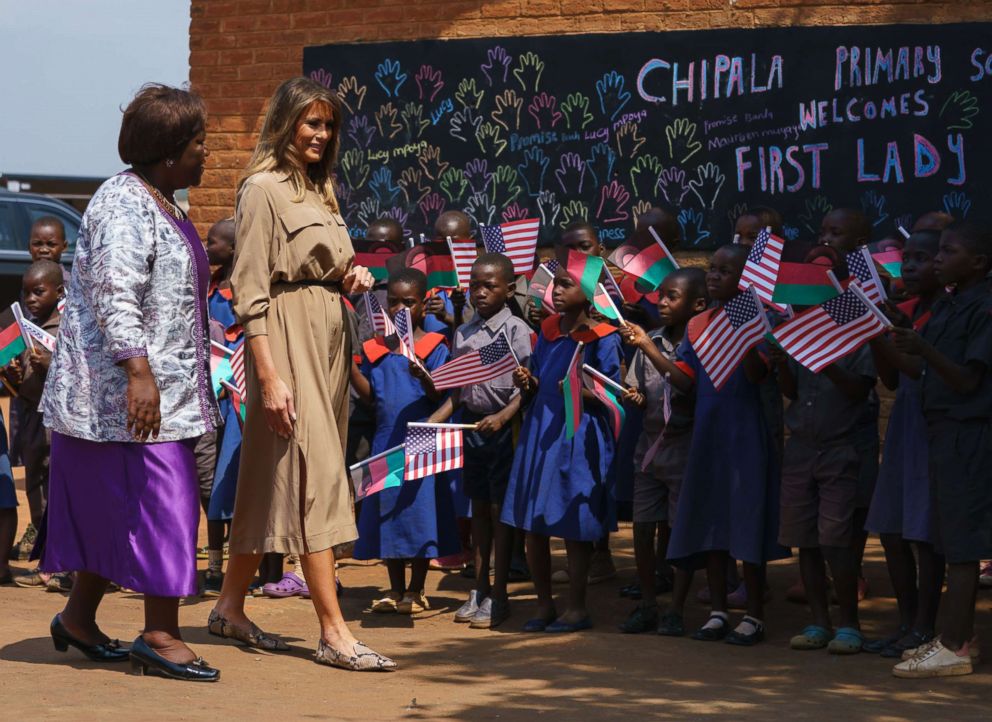 "I could say that I'm the most bullied person in the world," Trump said. Pressed by Llamas on that assertion, she responded, "One of them, if you really see what people are saying about me."
Both online and on TV, people often focus on what Trump wears. Sometimes it's because of appearances at glamorous diplomatic or ceremonial events in the White House or abroad.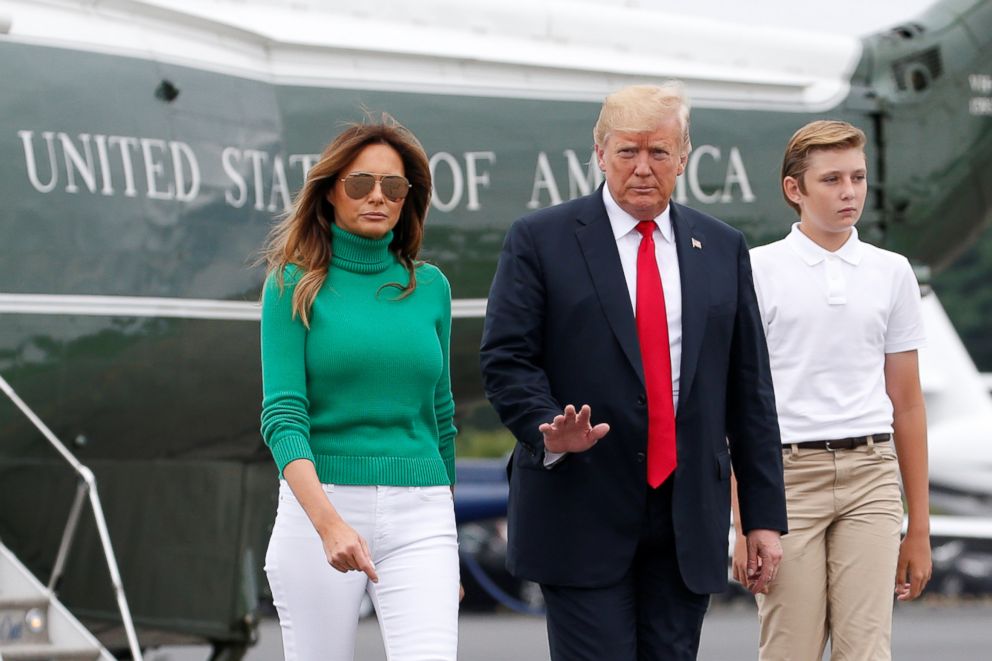 Boarding a plane to Texas to meet with children of families separated at the border, Trump was spotted donning a green jacket with the words, "I really don't care, do you?" emblazoned on the back. Her choice of wardrobe caused backlash before her flight landed just hours later, with her concern for those children of separated families immediately being called into question.
After her team initially denied any subtext in the jacket's words, the first lady told Llamas that wearing that jacket was, in fact, a deliberate choice, meant "for the people and for the left-wing media who are criticizing me. I want to show them that I don't care. You could criticize whatever you want to say, but it will not stop me to do what I feel is right."
"It was kind of a message, yes. I would prefer that they would focus on what I do and on my initiatives than what I wear," she said.
Asked about suggestions that the jacket's message was directed at the children of separated families.
"It's obvious I didn't wear the jacket for the children," she said. "I wore the jacket to go on the plane and off the plane. … After the visit, I put it back on because I see how [the] media got obsessed about it."
Aside from the media scrutiny, being in the White House presents additional challenges.
In spite of her appreciation for the nation's capital, she doesn't trust everyone who works for her husband there. Trump told ABC News some of the people in the president's administration whom she didn't trust have left, while others still work there.
"It's harder to govern," the first lady said, adding that she tells her husband when she distrusts someone working for him. "You always need to watch your back."
Despite all this, Trump said she hasn't changed since uprooting her life in New York City and moving to the nation's capital.
"I'm staying true to myself. I want to live [a] meaningful life, and that's the most important to me. I know what my priorities are, and I'm focused on that," she said.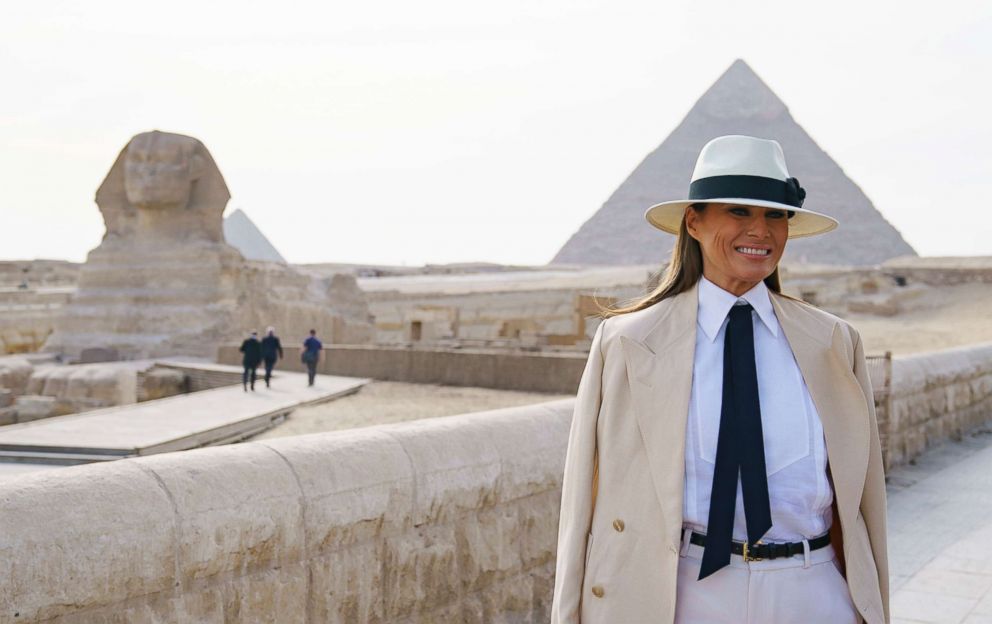 Trump says she has the same close group of friends she had before coming to Washington. "I always prefer quality over quantity," she said. Asked if it's hard to make friends in Washington, the first lady said, "Sometimes; you need to be careful."
"You know, our first first lady, Martha Washington, famously said the role of first lady can sometimes feel like a state prisoner. Can you relate to that?" asked Llamas.
"I don't feel like a prisoner. No. I [am] enjoying it, and this will not last forever. And it's [a] very special time," she said.
"Speculation, speculations," Trump said, "and my office put out the statement, a factual statement, and people still didn't believe it."
Bodies of 11 infants found in ceiling of closed funeral home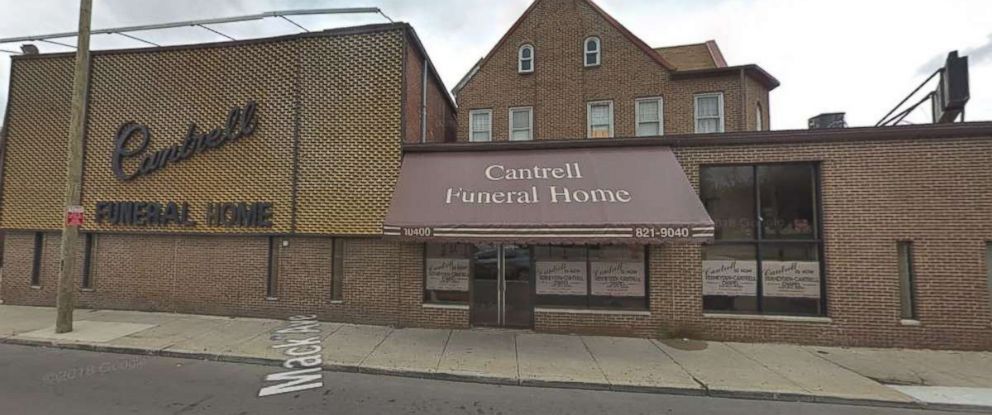 In a disturbing discovery, the bodies of 11 deceased infants were found in the ceiling of a shuttered funeral home in Detroit on Friday.
The bodies were found in bags, most in a cardboard box and others stuffed in a small coffin, police said.
The discovery was made after the Michigan Department of Licensing and Regulatory Affairs (LARA), which licenses funeral homes, was sent an anonymous letter Friday afternoon, which described exactly where the remains could be found.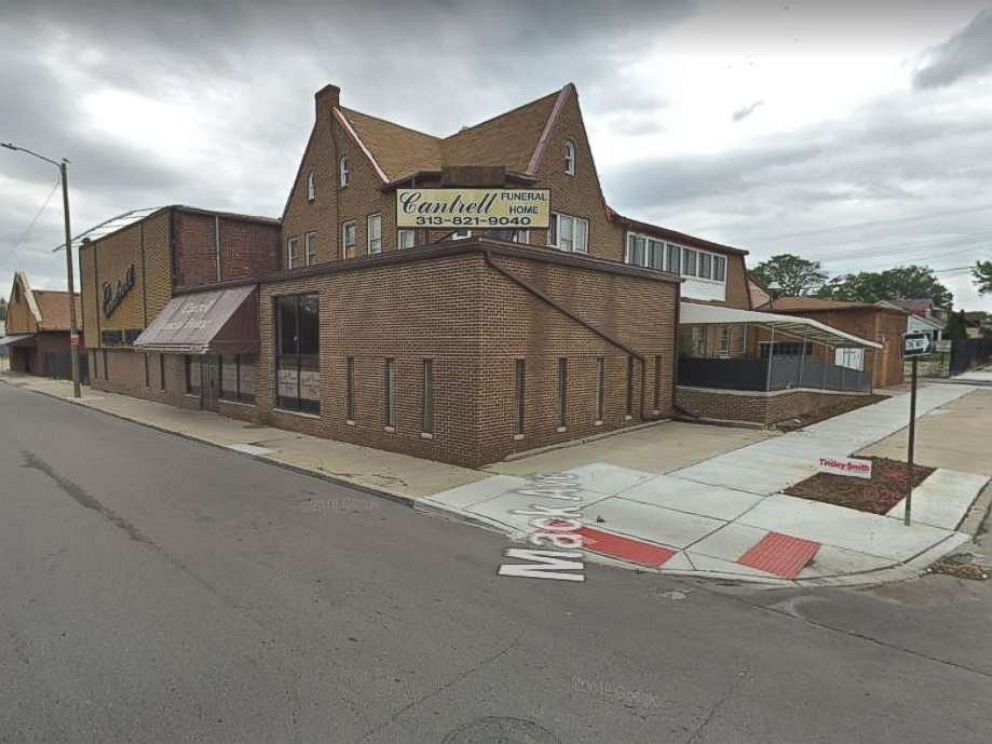 "It's just the callousness of the operators, the owners, the employees of the funeral home [that stands out]," Detroit Police Department Lt. Brian Bowser said at a press conference Friday night. "The inspectors from LARA located the boxes, or the one box and the casket, and they subsequently called 911. The police responded, they removed the box and the casket from the false ceiling, or the lowered ceiling, and they opened them up and obviously they discovered the remains."
"They were actually in a cardboard box, nine of the 11 -- they're very small remains," Bowser continued. "They were in a cardboard box stuffed away from a stairwell."
Bowser said they have names of some of the deceased infants and the medical examiner will conduct an investigation.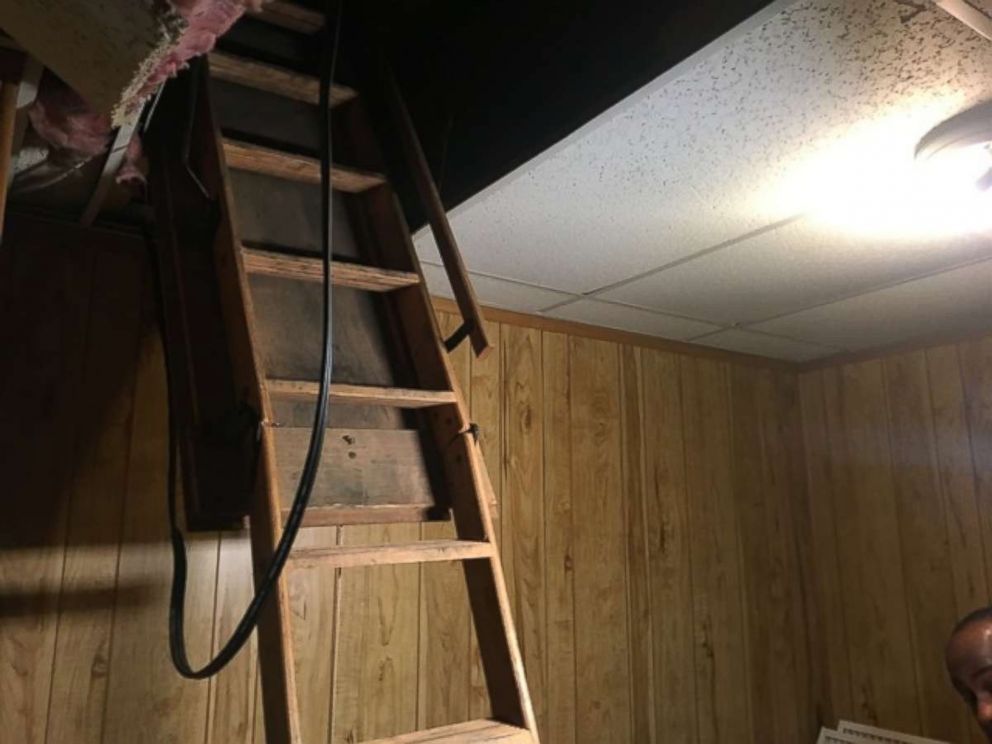 Violations included dirty floors, peeling paint, mold, improper storage of embalmed bodies, with one in "advanced stage of decomposition," and fraud, deceit, or dishonesty, incompetence, and gross negligence in the practice of mortuary science." LARA called the violations "deplorable" at the time.
The Detroit Police Department will continue to investigate the discovery Friday and had cadaver dogs searching the property, Bowser said.
"Obviously we have to find out what happened, and why it happened," he said.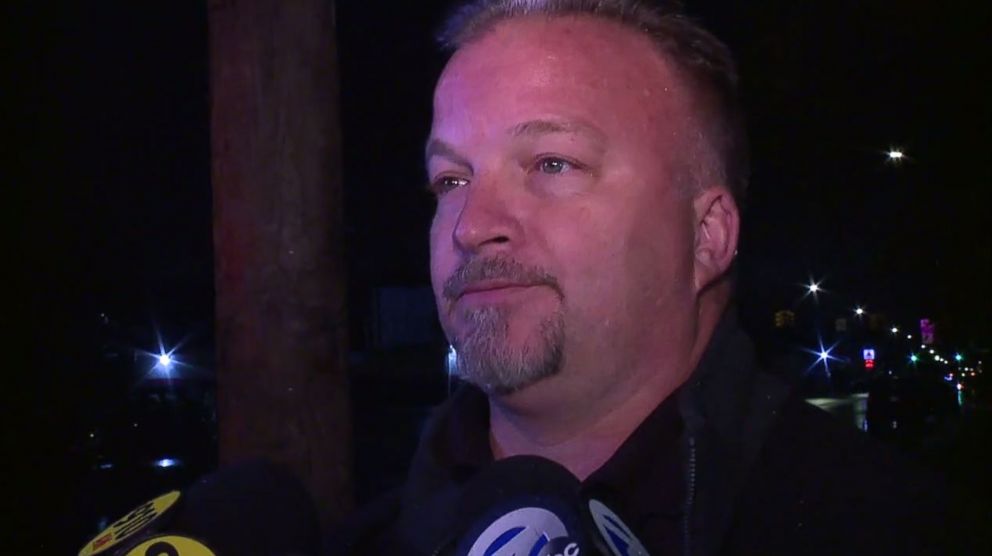 "Based on a new complaint, LARA investigators today searched Cantrell Funeral Home and found the decomposing bodies of 11 infants," the statement said. "We then immediately contacted local authorities. In April, LARA suspended the mortuary licenses of both the home and its manager Jameca LaJoyce Boone for many violations including the improper storage of decomposing bodies of adult and infants. That suspension order remains in effect as does our investigation. We will use the evidence gathered today to add to our open investigation and will continue to work with local law enforcement as this case proceeds."
The property has been sold and the new owners plan to turn it into a community center, according to WXYZ.
Trump administration steps in to kill police-reform plan
The Trump administration informed a federal judge in Chicago on Friday that it's seeking to scuttle a plan negotiated between the nation's third-largest city and the state of Illinois that envisions far-reaching reforms of Chicago's 12,000-officer police force under close federal court supervision.
In a statement announcing the intervention, Attorney General
Jeff Sessions
blasted the roughly 200-page plan, also known as a consent decree, because of the court oversite. And he offered a full-throated defense of Chicago police, saying they must take the lead in stemming city violence.
"There is a misperception that police are the problem and that their failures, their lack of training, and their abuses create crime," Sessions said. "But the truth is the police are the solution to crime, and criminals are the problem."
An 11-page Justice Department statement of interest — filed with Judge Robert M. Dow Jr., who must grant the proposal final approval — says the reform plan, as it is, would deprive police of flexibility to do their jobs right. And it criticizes criteria in the plan meant to assess police compliance as vague.
It asks Dow "to allow state and local officials — and Chicago's brave front-line police officers — to engage in flexible and localized efforts to advance the goal of safe, effective, and constitutional policing in Chicago."
The filing and Sessions' comments came a week after jurors convicted white Chicago police officer Jason Van Dyke of second-degree murder for shooting black teen Laquan McDonald 16 times in 2014 as he walked away from police with a knife.
A video of the shooting, released about a year later, sparked outage nationwide and led to an Obama administration investigation of Chicago police, which was followed months later by a damning report that found widespread police abuses.
The Department of Justice Friday simultaneously announced the creation of a "Gun Crimes Prosecution Team" at Chicago's U.S. attorney's office focused on gun crimes. The Bureau of Alcohol, Tobacco, Firearms and Explosives will assign five violent-crime coordinators to work with federal prosecutors.
Responding to the announcements, a spokesman for Chicago Mayor Rahm Emanuel, Matt McGrath, said the city appreciated the additional resources, "but we don't appreciate efforts ... to impede our public safety reforms or inhibit our efforts to rebuild the bonds of trust between officers and residents."
Illinois Attorney Lisa Madigan — without objection from Emanuel — sued the city last year to ensure any police reforms would be overseen by a judge. That killed a draft plan negotiated with Trump's administration that didn't envision a court role in reforming the department and led to the ultimately successful talks to create the current plan.
The reform plan now on the table foresees far stricter rules on the use of force by officers. One provision requires officers to file paperwork each time they point their weapons, even if they don't fire.
Sessions again echoed President Donald Trump, who told officers at a convention in Orlando on Monday that a three-year-old agreement between Chicago and the American Civil Liberties Union of Illinois to curb stop-and-frisk procedures by police prevented officers from doing their jobs.
"When police are restrained from using lawfully established policies ... when arrests went down, and when their work and character were disrespected, crime surged," Sessions said. "There must never be another consent decree that continues the folly of the ACLU settlement."
Chicago officials and the ACLU have said those and similar claims by Trump administration officials are exaggerated, get the data on crime in Chicago wrong and misstate the underlying causes of crime.
Karen Sheley, the director of the police practices project at the ACLU of Illinois, said the move Friday by the Trump administration to sink a plan in the works for over a year was "a last-minute political play at the expense of real people in our city."
"The Trump Administration and Sessions' Department of Justice have never attempted to learn about the problems in Chicago or what reform is necessary," Sheley said in a Friday statement.